BitePRO® Scratch & Bite Resistant Clothing is a highly acclaimed brand of protective arm guards and jackets, safeguarding mental health care professionals, special educational needs teachers, psychiatric social workers, care workers and other professionals dealing with challenging behaviour.
It is a recognised fact that working within these sectors comes with a certain risk. But, would these environments not be a much safer places to work if the appropriate protection i.e. comfortable protective clothing was issued?
Especially if previous incidents of challenging behaviour and injuries following any biting, scratching or pinching have been reported and recorded. This type of protective 'workwear' can make a real difference to the personal safety of those men and women, and their subsequent well being... physically and mentally.
Bite Resistant Clothing That Can Prevent Infections and Psychological Trauma
Our bite resistant clothing effectively helps prevent teeth from breaking the skin or finger nails digging into the wearer's skin. It reduces the risk of injury, subsequent infection and the trauma linked to challenging behaviour.
Any of such injury can become infected and contaminated with pathogens, because of the number of bacteria and viruses in a human mouth. Transmissions of viruses, such as Hepatitis B, Hepatitis C or HIV are as well a real possibility.
We are here to offer you peace of mind. Our dedicated protective clothing brand enables you to continue providing the best possible care and support.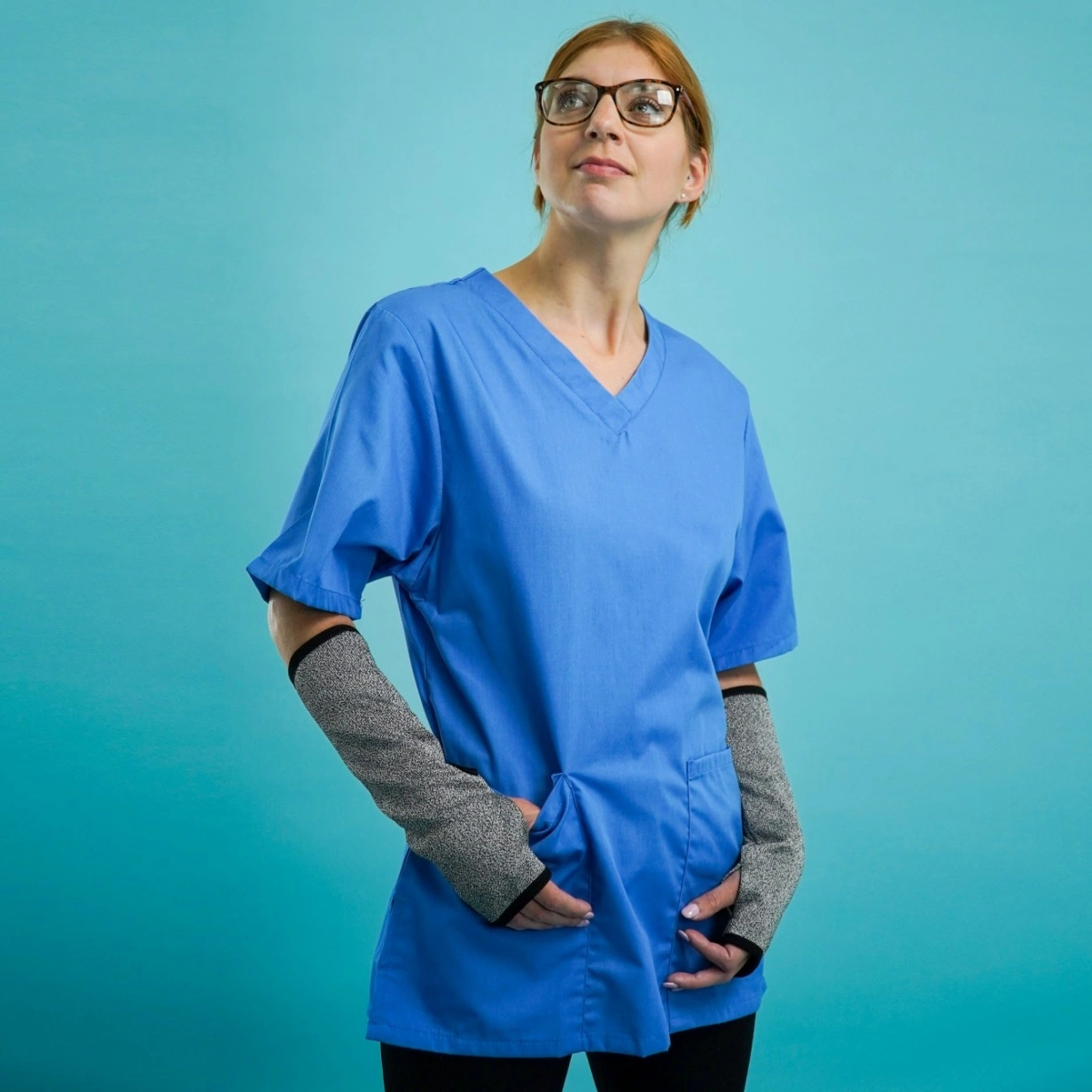 BitePRO® knows how misused the term 'challenging behaviour' can be. Our key objective is to better understand challenging behaviour from the viewpoint of those who are at risk of injury from it. In this context, please also read Rachel Riding's extremely informative article: "BitePRO® Survey Confirms Many Workers Are At Risk Of Being Bitten"
In context of our highly acclaimed and informative whitepaper we see injurious behaviour as any behaviour that results in someone causing physical harm to others and/or themselves, by biting, scratching, pinching or hitting. Our approach is to speak to people with first-hand experience of this behaviour globally and to get their thoughts and insight. We encourage you, all carers and special needs professionals to contact us so we can learn better about a person's behaviour and its underlying causes and to get appropriate personalised... and so we can ultimately protect you better from such injuries.
Please visit our entire product range.
About the Author
Robert Kaiser is an expert in the prevention of workplace violence related injuries. His written work has been published in several international 'security' and 'safety' focused publications. He is also the Founder and CEO of SlashPRO® Slash Resistant Clothing and BitePRO®, the world's first specialised brand of protective clothing, offering dependable scratch and bite protection for those working with individuals displaying challenging behaviour.