SlashPRO® Slash Resistant Clothing
Preventing rapid blood loss, subsequent shock and loss of life
---
The key function of SlashPRO® Slash Resistant Clothing is to protect key arteries and blood vessels from cuts and lacerations. The potential consequences of such injury could include rapid blood loss, subsequent shock and even loss of life.
It is a fact that slashing has become a regular occupational hazard for homeland security professionals. This is why prison, law enforcement, border force, immigration, customs and security professionals are looking at SlashPRO® right now.
Over the past years, SlashPRO® has become a highly acclaimed brand of fully certified, field tested and operationally sound slash resistant clothing. It has been designed to keep the wearer fully operational, unharmed—and most importantly alive.
SlashPRO® Video
SlashPRO® Slash & Cut Resistant Clothing – Why?
The below graphic offers you a reasonable understanding of the most vulnerable 'slashing targets'. Each 'effective' cut will either lead to rapid blood loss and subsequent death. This would be caused by shock, rapid blood loss, or at the very least dramatically decrease your mobility.
Slash or cut resistant clothing can prevent such injuries and safeguard the life of the wearer.
There are men and women out there who have made a professional choice in their lives to protect other human beings, facilities, venues, events and infrastructure from the bad guys. We believe those individuals have the moral and legal right to be equipped appropriately. We deem our protective clothing as 'appropriate'.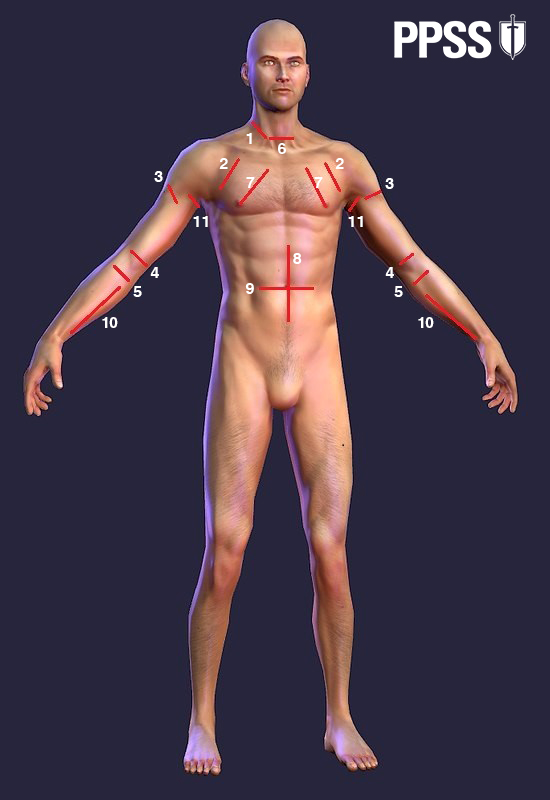 Please read our CEO's extremely informative article, titled: "The Danger of Slashing | Human Anatomy"
SlashPRO® Slash Resistant Clothing - Who Are We?
SlashPRO® is a European produced cut resistant clothing brand made from 100% Cut-Tex® PRO, the most reliable cut resistant fabric to-date.
It has been developed by PPSS Group, a team of highly trained professionals who have all served within government agencies, elite military forces, police and personal protection. The quality and design of our garments reflects our very own operational experience. Be assured, we do understand you and SlashPRO® will not let you down!
We are most certain we have what you are looking for. Our arm guards, shirts, hoodies, jackets, long johns and balaclavas, are all offering extremely dependable cut protection.
However, please view our entire product range and explore our online shop in you own time.
Links to Social Media