Cut Resistant Neck Guards by SlashPRO® are pieces of protective equipment worn by a diversity of public facing professionals around the world.
The neck harbours some of the most vulnerable blood vessels. Severing the carotid artery or jugular vein will result in rapid blood loss, shock, unconsciousness and death. However, it is not like it is in the movies. It is an extremely gruesome thing to witness. It takes thirty to sixty seconds till the blood loss and lack of oxygen eventually kills the person. Unconsciousness would have happened much sooner, but the heart will continue to pump squirting blood from the carotid until there is not enough to pump.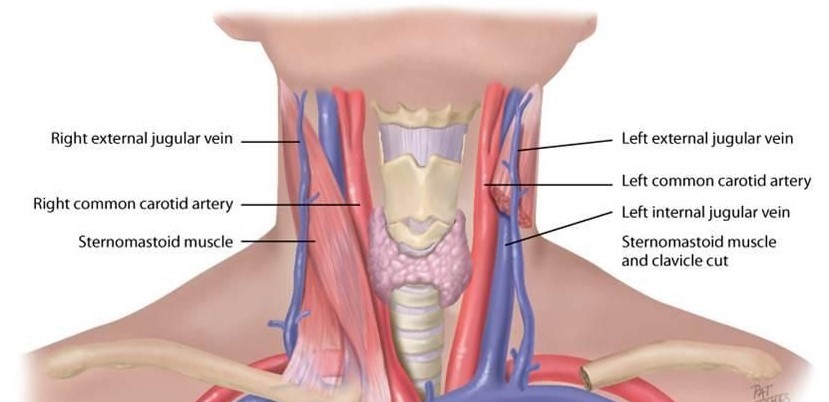 Due to widely reported incidents, we at PPSS Group can recently identify a noticeable increase in the demand for cut resistant neck guards. These enquiries tend to come from homeland security agencies, such as prison, police, immigration, customs, border forces and other government agencies.
This morning I had a good chat with Colin MacKinnon, ex Police Officer within one of the UK's Counter Terror Units and now Senior Body Armour Consultant here at PPSS Group. At the end I asked him to put down some of his thoughts on this subject matter, and this is what he had to say:
"The neck is a vulnerable and exposed target area which needs to be protected. The arteries are close to the surface of the skin and are easily cut leading to rapid blood loss and death. Cut resistant neck guards offer the solution and means to protect professionals against such an attack.

Some of the most serious offenders of knife attacks are targeting the area's which result in the most likelihood of death. It has been well publicised that a sick game of points tallying amongst knife gangs called 'scores', where the attacker wins points for stabbing people and committing crime, awards the highest points for stabbing around the head and neck because the likelihood is that the victim will die, awarding bonus points."
No matter what role you currently undertake, think long and hard about the potentially lifesaving properties of cut resistant neck guards and similar available products. With my experience in the Police and Counter Terrorism I can think of several areas this product could have been used within, for example:
Method of Entry Teams - smashing through doors and windows where the threat could simply be sharp wood, metal or glass.
Arrest Teams - going forward into unknown addresses where the intelligence is vague, and you don't know what threat you face.
Public Order Details - where missiles of all descriptions are thrown at you.
Firearms Teams
Covert Teams
…the list could go on and on and this is only the Police. What I am saying is look outside the box of what you currently use because this quick to put on, simple piece of equipment, could prevent a life-threatening injury."
According to UK's The Telegraph newspaper in February 2017, more than 6,000 police officers are assaulted every day, it has emerged, as new figures indicate the extent of the violence they face.
"Estimates from the Home Office previously suggested the 124,000 police officers in England and Wales faced around 23,000 attacks each year. But in the first major survey of its kind, the Police Federation of England and Wales discovered that the true figure is around 2.4 million, more than 100 times more. The figure means a police officer is attacked somewhere in the country every 13 seconds."
In additional to Colin's comments please allow me to highlight the risks prison and correctional officers face every single day these men and women go to work. Cut resistant neck guards, undergarments or arm guards have all been successfully issued to prison and correctional facilities worldwide. We must understand that some prisoners spend hours and hours developing improvised edged weapons, utilising broken pieces of glass, mirror or ceramic tiles, simple razor blades or box cutters they may well have access to whilst working in some types of workshops.
There is absolutely no question about it… this type of PPE is significantly improving their personal safety and increasing their chance of going home at the end of the day.
Most of the below professionals have been attacked from behind. This may well be the case because they, for whatever reasons, either trusted the attacker to a reasonable level, or because the attacker put himself intentionally into such position in order to cause max injury or even death.
These are just a very few news that have made headlines in recent times:
Northern Ireland: "A female prison officer thought she was going to die after being slashed in the neck in an attack by a male prisoner"
United Kingdom: "A prison guard had his throat slashed by an inmate at HMP Altcourse. The guard had his throat sliced open at the G4S run prison in Fazakerley"
Canada: "Woman charged after guard at US consulate in Toronto slashed with razor"
China: "A man cut a police officer's throat during a struggle in Nanjing City"
United States: "California Highway Patrol officer Andre Sirenko had his throat slashed in a confrontation with a homeless suspect last week"
Australia: "Man slashed a police officer's head open with a samurai sword' has charges upgraded to attempted murder"
United Kingdom: "A prison officer at HMP Isle of Wight has been left very badly shaken after an inmate attempted to slash the officer's throat at the weekend, prompting a Police investigation to be launched"
United States: "Female inmate approached an officer from behind and used a knife to cut his throat"
We all will agree, no matter how hard we try, we cannot guarantee the safety of those professionals who serve our countries or protect us… we simply cannot eliminate their operational risks.
However, there are many other public facing professionals at risk, and cut resistant neck guards are of equal relevance to them. Some of us might remember the when a 39-year-old taxi driver was attacked by a thug with a knife just outside Manchester. He needed 14 stitches to a deep cut beneath his chin.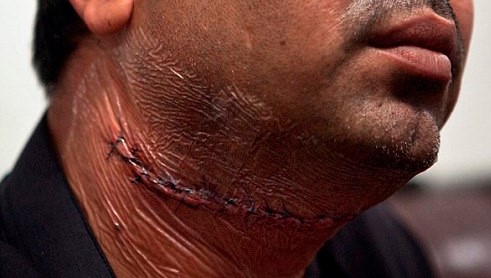 We at PPSS Group will continue our relentless research and development, and explore all possible options to further improve personal safety, and no one can argue that cut resistant neck guards or clothing (whatever model or design) does precisely that.
SlashPRO® Slash Resistant Clothing consists of a variety of 100% covert and overt garments, all of which offer significant levels of field tested and certified cut, tear and abrasion resistance.
Our products can be purchased via our online shop www.slash-pro.com but please feel free to contact us via email info@slash-pro.com if you wish to have a confidential conversation about your operational risks, threats and duties and how SlashPRO® can potentially be of help.