This week's news highlights the importance of slash proof clothing once again.
The Office for National Statistics made public that in 285 homicides the method of killing used was by knife or sharp instrument, during the last 12 months ending March 2018, the highest number since the Home Office Homicide Index began in 1946.
Also released last month, the latest crime figures for England and Wales for the year ending September 2018, 2nd of the biggest results that stood out were:
an 8% increase in the number of police recorded offences involving knives or sharp instruments
a 15% increase in the number of hospital admissions in England for assaults involving a sharp instrument
With all the above taken into consideration, it isn't a shock that more people are looking at how to protect themselves and I believe knife resistant clothing should be a key part of this.
What Is Slash Proof Clothing?
Before I go into detail about why knife resistant clothing is important, I think it would be useful to cover what Slash Proof Clothing is:
Slash Proof Clothing is an item of clothing that is designed to offer a level of protection normal clothes wouldn't be able to, in particular the slashing and cutting effects of an attack from a knife or other edged weapon.
PPSS Group have developed their own range of Slash Proof Clothing, called SlashPRO®. This range was originally developed to protect professionals working within hostile environments, however we are seeing an increase of interest from private individuals globally looking to protect themselves.
What is the difference between Slash Proof Clothing & Stab Resistant Vests?
When considering any type of protective equipment, it is essential to consider a number of different factors including the type of risk faced, comfort of the user, and limitations of the equipment among other things. When considering protection from knifes and other sharp bladed weapons, it is important to understand the difference between Slash Proof Clothing and stab resistant vests.
The first thing to be aware of is that there is a huge difference between knife resistant clothing and stab resistant vests. Stab resistant vest offer protection from the stabbing motion of a knife attack, by covering vital organs in the chest area and preventing a knife or sharp object puncturing this area. PPSS Group's range of stab resistant vests also offer unrivalled protection from hypodermic needles as well as blunt force trauma.
On the other hand, Slash Proof Clothing will not protect against a stabbing motion but should, as the name implies, protect against a slashing and cutting movement (subject to its published protection levels). Although designed predominantly to provide cut resistance, the clothing does also offer a level of anti-tear and anti-abrasion protection as well.
WHY IS SLASH PROOF CLOTHING SO IMPORTANT?
Our CEO Robert Kaiser has previously gone into depth about dangers of slashing injuries in his article The Danger of Slashing | Human Anatomy, so I won't go into too much depth about this. However, if you look at the below infographic you will be able to clearly see how dangerous a cut to a major artery can be.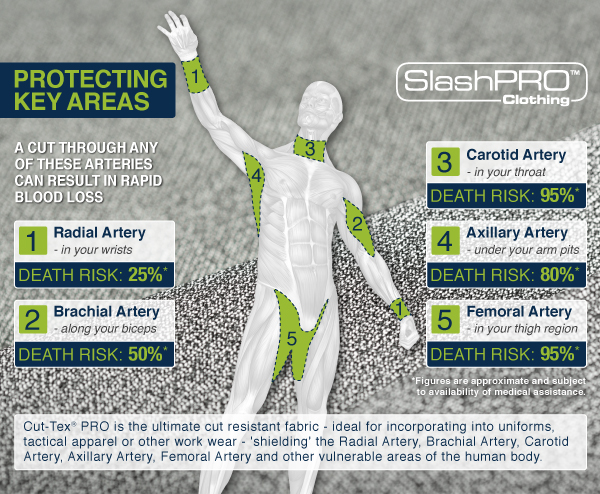 Our range of SlashPRO® Slash Proof Clothing was designed to effectively shield the major arteries, helping to reduce the risk of rapid blood loss and even death. SlashPRO® Slash Proof Clothing is made out the ultra-high cut resistant fabric – Cut-Tex® PRO – offering outstanding, tested and certified levels of cut, abrasion and tear resistance.
For an employer with staff on the front line such as security companies or councils with enforcement teams, it is not only a moral duty to offer your staff adequate protection, but a legal one as well. The relevant regulations are the Personal Protective Equipment at Work Regulations 1992.
Regulation 4 states:
Every employer shall ensure that suitable personal protective equipment is provided to his employees who may be exposed to a risk to their health or safety while at work except where and to the extent that such risk has been adequately controlled by other means which are equally or more effective.
So, if you have identified a risk for your front-line staff of being attacked with a knife or other bladed object, you are legally obligated to provide PPE, whether that be a stab resistant vest or Slash Proof Clothing or a combination of the two. Some people will say 'I have provided staff stab resistant vests and that will be enough', which is something I come across a lot in my role, I however would argue that if you have identified a need to wear a form of stab resistant vest there is also a need to issue staff Slash Proof Clothing to be worn in conjunction with this. As we all know an attacker with a knife is unlikely to just attack staff in the mid-section that is covered by a vest, therefore there is a very high risk that injuries will occur elsewhere on the body. All it takes is a slash or cut to one of the main arteries for the worst to happen.
The SlashPRO® UBAC Shirt was designed to perfectly complement body armour/stab resistant vests. It offers protection in areas not covered by a vest, thus providing total upper body protection when worn under a stab resistant vest.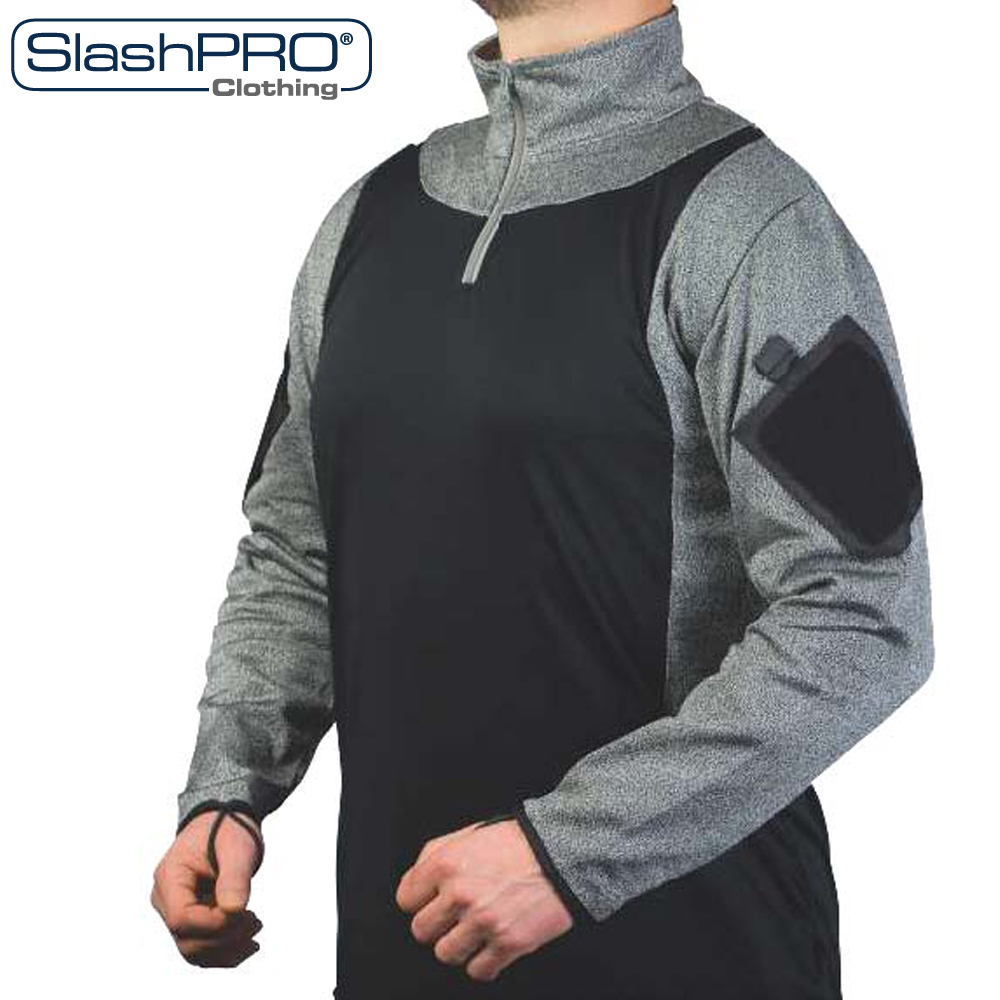 I think it is important to point out that Slash Proof Clothing will not and should replace stab resistant vests, where a threat is deemed high enough for you or your staff to wear them, however used in conjunction with them, knife resistant clothing will provide a higher level of protection. Knife resistant clothing is also perfect in a situation you have deemed it not necessary to wear or is impractical to wear stab resistant vest, yet still want some form of protection from a knife attack.
If you were looking for something more covert, you could opt for SlashPRO® Hoodie or SlashPro® V-Neck T-Shirt. Both products are designed to look like a 'normal' piece of clothing, and no one would know you are wearing Slash Proof Clothing. These still can be worn under a vest but are ideally suited to situations where discretion is needed while you still need protection.
If you would like to look at all the products in the SlashPRO® range, please follow this link to our 2019 catalogue: SlashPRO Clothing Catalogue 2019
If you're based in the USA, Mexico and surrounding countries you can learn more in regards to this from our PPSS North America website.
I hope this article has provided an overview as to why I believe Slash Proof Clothing is a very important addition as an item of PPE and why everyone should consider some form of knife resistant clothing in their on-duty uniform.
Please view our 'media coverage' page to appreciate the international interest this create product is attracting.