SlashPRO® Cut Resistant Clothing
SlashPRO® Cut Resistant Clothing made from 100% Cut-Tex® PRO effectively protecting homeland security professionals (law enforcement, prison, border control, immigration, customs), as well as private security professionals. It is now available via our online shop www.slash-pro.com
From the point of the employer, cut injuries can lead to severe legal and financial repercussion. From the point of the injured professional, and depending on the level of injury, it can also lead to long lasting emotional scars, ongoing distress, physical pain, and in the very worst-case scenario death.
Common PPE (Personal Protective Equipment) used by the above sectors do not offer enough cut protection. They may well offer a high level of flame resistance or different levels of protection, but they will not protect the wearer from suffering form severe laceration when attacked by a knife wielding individual.
Many frontline professionals have long asked for better slash protection, and our range of SlashPRO® Cut Resistant Clothing is offering precisely that.
Our very own high performance cut resistant fabric Cut-Tex® PRO is offering truly exceptional levels of protection. In number terms and put into 'standards' this means ISO 13997:1999 Blade Cut Resistance Level 5 (the highest possible), EN 388:2016 Blade Cut Resistance Level 5 (the highest possible), EN 388:2016 Blade Cut Resistance Level E and ANSI/ISEA 2016 Cut Resistance Level A5.
Our entire SlashPRO® Cut Resistant Clothing range is made out of Cut-Tex® PRO. This outstanding UK produced cut resistant fabric is responsible for the garments ability to reduce the risk of workplace violence related cut injuries, rapid blood loss and potential subsequent death.
SlashPRO® Cut Resistant Clothing is comfortable to wear, machine washable and Latex® free.
Please also note we are more than happy to design/produce bespoke garments, subject to any unit's specific operational risks, threats and duties.


Cut Resistant Clothing: The Reality
Attacks on frontline professionals are occurring rather frequently. Just take a moment and type in key phrases into Google, such as 'officer slashed' or 'guard slashed' and countless of headlines will appear, such as the following:
Off-duty police officer has face slashed with knife at HMV store in Leeds
Police officer slashed by knifeman while on duty
Police: Robbery suspect slashed Fred Meyer security guard
Officer hospitalised with knife wounds after intervening in prison attack
Calgary police officer recovering from 'severe' injuries after machete attack
Attempted murder arrest after Lancashire Pc slashed with knife in routine vehicle check
Security guard slashed in face with large knife at Sunbury shopping precinct
New York gangster serving life in British prison for murder 'slices wardens' neck open with homemade knife'
A police officer was slashed in the neck in June this year (2015). The aggressor was subsequently shot and killed.
A drunk man slashed security staff during an attack at Leeds (UK) restaurant.
A supermarket security guard was slashed by a shoplifter South England
A corrections officer was slashed al Long Island Hospital… with the attacker being able to escape.
A female police officer was brutally slashed during Notting Hill Carnival in London
There are many more reports of domestic frontline professionals being slashed or suffering from major cuts. Recent well documented reports of this type of assault on police and military personnel are also readily available on the internet or security and law enforcement related publications.
In fact I have recently conducted a bit of a research project on this subject matter, so please read my article on: The Global Rise of Knife Crime – Why?
The following images offer a horrible view on what type of injuries some of those men have suffered whilst protecting our countries and citizens: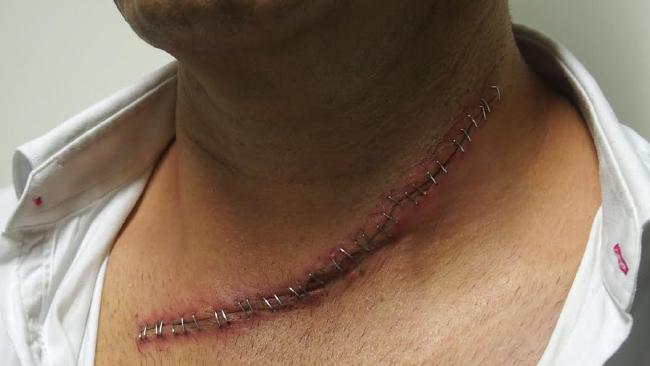 Unless having undergone extensive edged weapon training, many or most frontline professionals will, by instinct, lift their arms and hands during a potential hostile situation, in order to protect the face and head. This is nothing to be ashamed of. In fact it is absolutely normal, and only highly trained operators would respond differently and more effectively.
However, we must acknowledge that this 'normal' and 'natural' action would expose an extremely vulnerable area under your arms. A cut, injuring the auxiliary artery under your arms, can lead to rapid blood loss and even death. This is where knife resistant clothing stats making real sense.
Prison, police and security officers often receive cut wounds along the forearm or open hand. These wounds are the most common injuries and classed as 'defensive wounds', often seen as evidence in the court of law that the wearer was protecting him or herself, rather attacking a subject.
'Forced Entry Teams' and SWAT teams are also part of all major police forces. Part of their operational responsibilities will be to enter properties through doors and windows, meaning forcing their way in through broken and smashed windows and glass. There are numerous of reports of serious cut related injuries as many of these professionals have not been issued with appropriate cut resistant gloves, sleeves or coveralls.
CERT or Tactical Response Groups within prison services are equally at risks when dealing with major disturbances and require equal levels of protection.
Cut Resistant Clothing: The Solution
I strongly believe that slash resistant clothing will reduce the risk of workplace violence related injuries, in reference to this article I am here talking about 'cut related injuries' or 'lacerations'.
Please note we are also more than happy to offer our Cut-Tex® PRO cut resistant fabric to the manufacturer of your current uniforms or tactical gear or coveralls. This would enable them to incorporate this high-performance material into your current uniform, especially vulnerable areas that really require such level of protection. This would effectively help protect your colleagues from potentially horrendous cut injuries.
If you wish to speak with us about cut resistant clothing please contact us.
PPSS Group is also proud manufacturer of high performance stab proof vests you can depend on, offering certified stab and spike protection.
Robert Kaiser, CEO
PPSS Group